In the process of getting your book printed and distributed, there is the consideration of the ISBN (International Standard Book Number) prefix. If you don't already have an ISBN prefix, you can obtain one in the US from RR Bowker at www.isbn.org. If you're planning on writing and publishing more than one book, it is less expensive and easier to order 10 at a time when you register through their site. It may take up to a week for the processing of your application, so don't wait until your book is ready for printing to get started.
Frequently Asked Questions About ISBNs
Do I have to get an ISBN?
If you are going to market your books directly and have no desire to sell them in a retail store or through an online retailer, you don't have to assign an ISBN to your book. If you want to sell books through any retail outlet (other than one you may own) or if you want libraries to order it, you must obtain an ISBN.
What's the difference between an ISBN and an ISBN prefix?
The ISBN prefix is included in each ISBN. It is the first several digits that are the same in each ISBN assigned to you and identifies your publishing company to retailers. If you use all your ISBNs and apply for more, you will receive another prefix as well. A publishing company may have an unlimited number of prefixes depending on how many books they publish.
What's the difference between an ISBN and a barcode?
The ISBN is the number itself that you purchase. The barcode is a computer-scannable image (like a UPC) generated from the number. It can be generated by using a software program or purchased from RR Bowker (www.isbn.org).
If I don't get an ISBN barcode from RR Bowker, where can I get one?
A printable ISBN barcode file can be obtained free from www.myidentifiers.com/barcode/faqs. You may give that website to your cover designer or submit the information yourself. If you decide to do it yourself, be sure to follow each step on the website carefully. When you have completed the process, download the file(s) to your computer) and give the barcode image file to the cover designer to be included on the back cover of the book.
Should I embed the price of my book in the barcode?
Along with the ISBN, the retail price of the book can be embedded in the barcode as well. It is easier for retailers to find the price of your book if it is embedded in the barcode, so the practice is recommended, however it is your option to decide. For additional information on how to format the price of your book, consult www.myidentifiers.com/barcode/faqs.
What do I do once I get my numbers?
After you get your ISBN numbers from Bowker (www.isbn.org), you'll need to assign an ISBN to your book. Once an ISBN is listed in the Bowker Books in Print database, it cannot be reassigned to any other book title.
Can I use the same ISBN for hardback and paperback versions of the same book?
ISBN rules require you to assign a different ISBN for each different format of the book. A paperback, hardback, and e-book version of the same title must each have their own ISBN. A new edition of a book title must have a new ISBN.
Does the ISBN barcode have to be a certain size?
The ISBN barcode comes in a standard size, but the recommended size is actually a little smaller: 1.75 inches wide by 1 inch high. This size is still scannable by retailers and looks cleaner on the back of a book. The barcode should be placed on the lower right-hand side of the back cover, at least a half-inch from the bottom and spine.
I've heard that reviewers and some booksellers can tell if I'm a small publisher by my ISBN number. Is this true and will it affect sales?
ISBNs are coded with a number in what is called the "penultimate block." If you purchase a block of 10, that number appears as a single digit. A block of 100 is a double digit and blocks of 1,000 show triple digits. By looking at the ISBN, booksellers can see how many ISBN numbers you've purchased, and from there figure out how large your publishing house is. However, if your book is well-written, professionally edited and designed, and if it is an interesting subject to readers, it will sell no matter which block you purchased.
What do the numbers in an ISBN mean?
Country Code
Article Identifier
Penultimate Block
Check Digit Price Code
Tip:
Obtaining an ISBN for each of your published works is a detailed process. The information given does not represent all of the requirements necessary. Go to www.isbn.org and follow the steps to apply for your ISBN.
IAmPublished.com offers a wide range of publishing services and several affordable packages depending on your needs.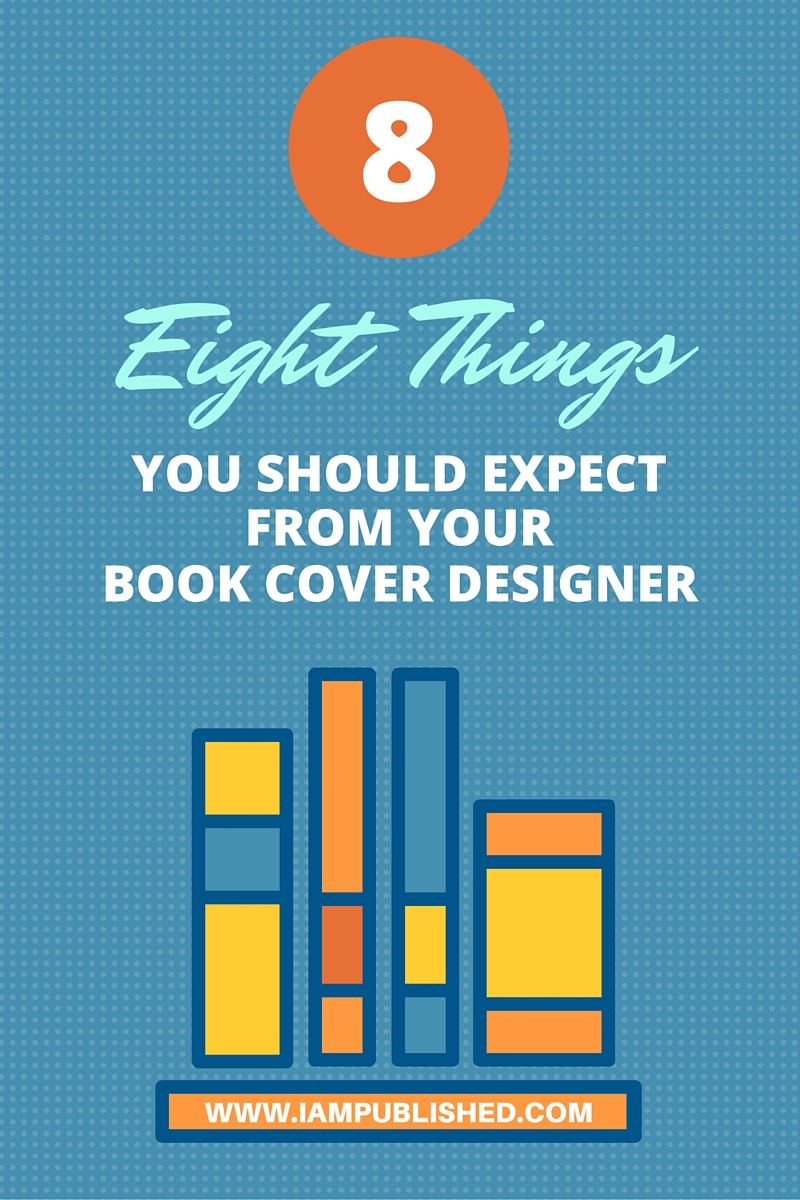 Readers do judge a book by its cover, so it's important to make your book or e-book stand out. A good book cover designer will create a custom cover for your paperback or hardcover book that will attract readers' attention and give your book professional credibility.
Your book cover designer should be able to provide you with a fully custom, professional book cover design that includes the front cover, back cover, and spine for either a paperback or hardcover format of your book.
If you are planning to publish an e-book, only a front cover design is needed, so you can expect to pay less than you'd pay for a full book cover design.
For paperback, hardcover or e-books, the design you receive should include multiple concepts and incorporate stock imagery, custom graphics, or feature photos or artwork you provide.
Chances are good that you may want to fine-tune your cover during the design process. You should be allowed the opportunity to make changes to the color, text, layout or images on your cover, with no hard feelings.
In case you want to create multiple books or e-books in a series, your book cover designer can create your cover as a template that can be saved and later applied to subsequent books for a discounted price.
Your book designer should either insert the ISBN and EAN barcode or allow the space for the barcode according to required specifications for book printing.
The designer should provide the final files for the printer according to the printer's specifications.
Images of your cover should be made available to you for an e-book format and for the purpose of promoting your book.
Click here to find a book cover designer who will meet or exceed all of the above.