Whether you choose to publish your book through a Subsidy Press or go 100% independent, you are essentially setting up a business. From choosing your publishing company name to filing sales taxes for books sold, several things need to be done before you can announce your book to the world. If you already have an established business or non-profit, consider rolling your publishing "arm" under that existing business. The book(s) you publish will not only add credibility to your business, but it will open the door for further opportunities.

The links below represent several important considerations regarding the business of publishing your book. Take the time to look at each section carefully.
The business of publishing is a detailed process. If you find you'd like to have someone take care of these details for you, contact us at IAmPublished.com. We offer a wide range of publishing services and several affordable packages depending on your needs.
Copyright Registration is an important part of your book's publication process. Although you can file a "pre-publication" copyright, it is not necessary since the self-publishing process doesn't take years to complete.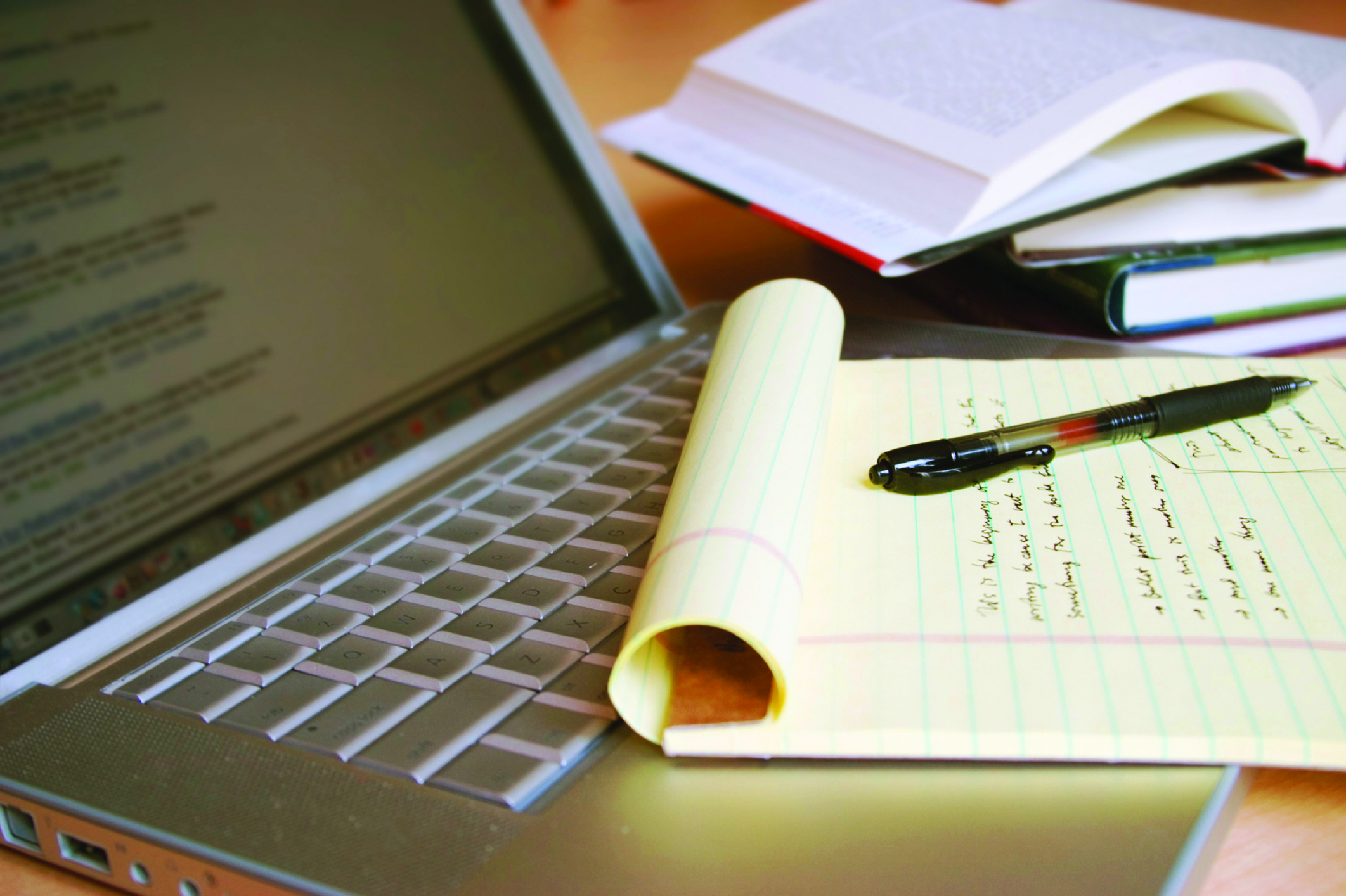 We recommend that you wait to start copyright registration until after your book has been sent to the printer. If you live outside the United States and are planning to publish your book in the US, you will need to consult with an American copyright attorney for help in determining how to register copyright for your book.
The US Copyright Office has both online and paper filing systems. Their paper system can be confusing and costs an additional $10 to file, so we recommend you file via their online "eCO" system. Filing fees are $35 for eCO and $45 for paper processing. Go to: http://www.copyright.gov/eco/index.html and follow the steps to obtain a US Copyright Office account and file your copyright.
After completing the process, watch your email for detailed instructions and a packing slip that will be emailed to you from the US Copyright Office. Print out the packing slip and mail it to the US Copyright Office (address below) along with two copies of your book when you get your first order from the printer.
Copyright Registration is a detailed process. If you find you'd like to have someone take care of these details for you and retain all of your rights and royalties, contact us at IAmPublished.com. We offer a wide range of services and several affordable packages depending on your needs.
Setting Up A BowkerLink Account
The BowkerLink Books in Print database system is a well-kept secret of the subsidy press industry.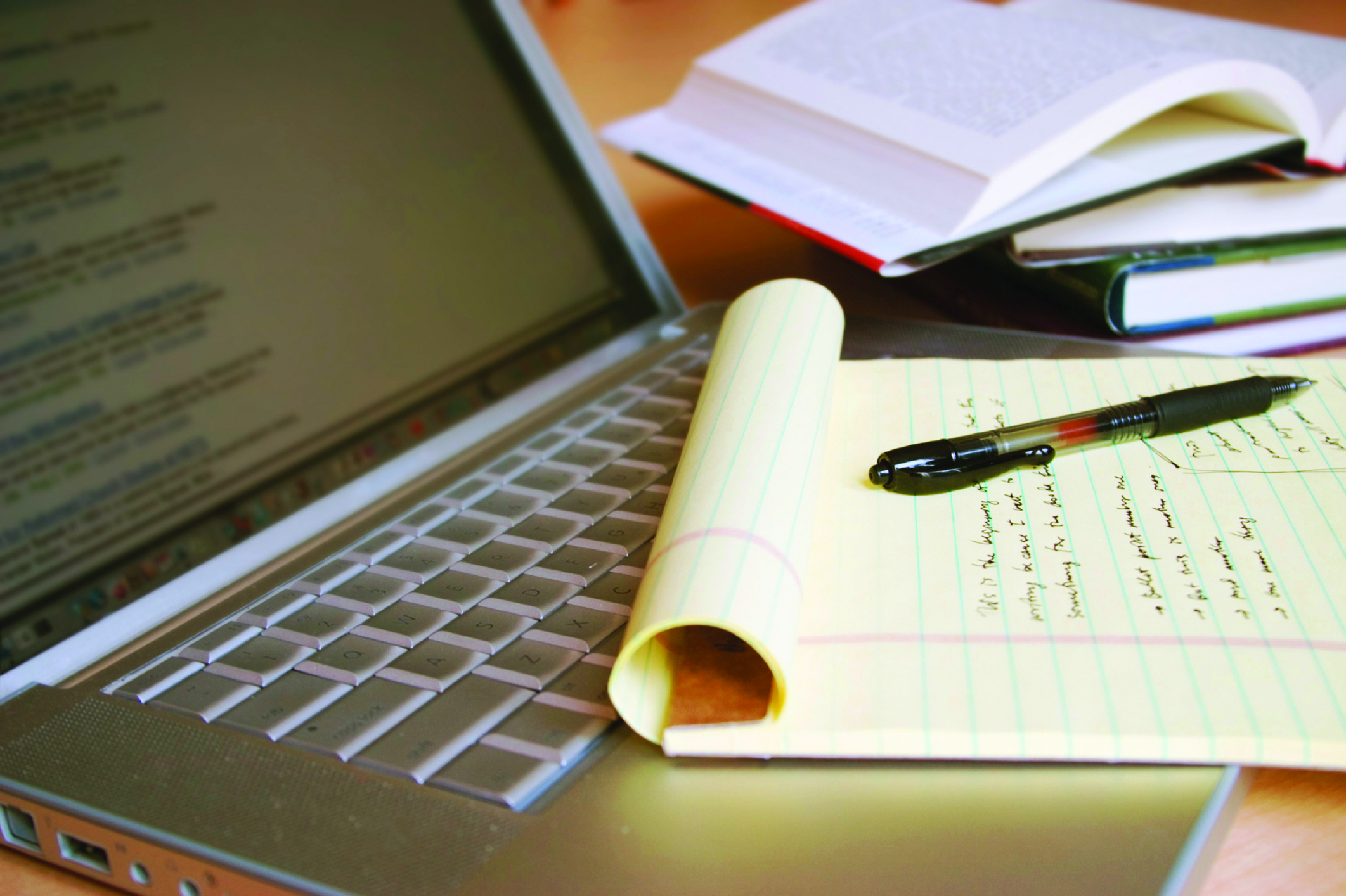 Bowker's exclusive publisher access system gives you the power to communicate with a wide audience of book buyers. Through the system you can announce new releases and update prices and the status of each title you publish. Their web-based system is easy to use and exposes your titles to many facets of the book industry. By including your book in the database, it will be accessible to almost every book seller in the world. Best of all, your listing is free.
Go to www.bowkerlink.com, click on "New User?" and follow the steps to set up and use your BowkerLink account.
Setting up a BowkerLink is a detailed process. The information given here may not represent all of the requirements necessary.
IAmPublished.com offers a wide range of publishing services and several affordable packages depending on your needs.
To register your book with the US Library of Congress, you can choose to obtain an LCCN or Cataloging in Publication (CIP) data. Read through each section below to decide which one to get.
Library of Congress Control Number (LCCN)
After you receive your ISBNs and an estimated page count from your interior layout artist, you should register the book for a Library of Congress Control Number. The LCCN is entered into a directory that allows libraries within the US to order a copy of your book. If your book is published outside of the US, check with your local library for the equivelent of an LCCN. This number will appear on the copyright page along with the ISBN. To apply for an account with the Library of Congress and an LCCN for your book, go to http://pcn.loc.gov and follow the steps.
Library of Congress Cataloging in Publication (CIP)
Library of Congress CIP data is a detailed description of your book's subject matter, that is registered in the main Library of Congress database. It helps libraries find, order, and stock books faster. While libraries can order the book with an LCCN, CIP data gets the book in front of them and makes the ordering process even easier. It is beneficial if you are eligible. There are several requirements for getting CIP data, primarily that you are not a self-published author.
As a self-published author, you will not be eligible for Library of Congress CIP information. However, there are two ways to possibly get around this block. First, you can try and register your book for CIP information and just not indicate it is self-published. If you plan on publishing titles by you and two other authors, you will be considered a "small press" and will become eligible for the program. Or you can get Publisher's Cataloging in Publication data, which doesn't get you into the main library database, but it does assist libraries with stocking your book, so they are more likely to order.
To try to register for Library of Congress CIP data, go to http://cip.loc.gov and apply for a CIP account using the same instructions as for the LCCN/PCN account. The pages and forms are the same. They will research your information and make a deterimation as to whether they feel you are eligible for the program. If they contact you and say you are not eligible, but you really want libraries to be more open to carrying your book, you should contract a library distributor to create P-CIP data for you. The largest library distributor in the US is Quality Books. They can be reached at:
Quality Books 1003 W. Pines Rd. Oregon, IL 61061
http://www.quality-books.com 800.323.4241
Other Requirements
When you have published your book and get your first order, you need to send one copy to whichever place you have registered it (you can only apply to register it via CIP or LCCN). Use the addresses in the boxes below to submit a complimentary copy of your book. If you chose to use a P-CIP through Quality Books or another company, you must contact them for the rules of submitting copies of your book.
Publishing a book is a detailed process. If you find you'd like to have someone take care of these details for you and retain all of your rights and royalties, contact us at IAmPublished.com. We offer a wide range of services and several affordable packages depending on your needs.
In the process of getting your book printed and distributed, there is the consideration of the ISBN (International Standard Book Number) prefix. If you don't already have an ISBN prefix, you can obtain one in the US from RR Bowker at www.isbn.org. If you're planning on writing and publishing more than one book, it is less expensive and easier to order 10 at a time when you register through their site. It may take up to a week for the processing of your application, so don't wait until your book is ready for printing to get started.
Frequently Asked Questions About ISBNs
Do I have to get an ISBN?
If you are going to market your books directly and have no desire to sell them in a retail store or through an online retailer, you don't have to assign an ISBN to your book. If you want to sell books through any retail outlet (other than one you may own) or if you want libraries to order it, you must obtain an ISBN.
What's the difference between an ISBN and an ISBN prefix?
The ISBN prefix is included in each ISBN. It is the first several digits that are the same in each ISBN assigned to you and identifies your publishing company to retailers. If you use all your ISBNs and apply for more, you will receive another prefix as well. A publishing company may have an unlimited number of prefixes depending on how many books they publish.
What's the difference between an ISBN and a barcode?
The ISBN is the number itself that you purchase. The barcode is a computer-scannable image (like a UPC) generated from the number. It can be generated by using a software program or purchased from RR Bowker (www.isbn.org).
If I don't get an ISBN barcode from RR Bowker, where can I get one?
A printable ISBN barcode file can be obtained free from www.myidentifiers.com/barcode/faqs. You may give that website to your cover designer or submit the information yourself. If you decide to do it yourself, be sure to follow each step on the website carefully. When you have completed the process, download the file(s) to your computer) and give the barcode image file to the cover designer to be included on the back cover of the book.
Should I embed the price of my book in the barcode?
Along with the ISBN, the retail price of the book can be embedded in the barcode as well. It is easier for retailers to find the price of your book if it is embedded in the barcode, so the practice is recommended, however it is your option to decide. For additional information on how to format the price of your book, consult www.myidentifiers.com/barcode/faqs.
What do I do once I get my numbers?
After you get your ISBN numbers from Bowker (www.isbn.org), you'll need to assign an ISBN to your book. Once an ISBN is listed in the Bowker Books in Print database, it cannot be reassigned to any other book title.
Can I use the same ISBN for hardback and paperback versions of the same book?
ISBN rules require you to assign a different ISBN for each different format of the book. A paperback, hardback, and e-book version of the same title must each have their own ISBN. A new edition of a book title must have a new ISBN.
Does the ISBN barcode have to be a certain size?
The ISBN barcode comes in a standard size, but the recommended size is actually a little smaller: 1.75 inches wide by 1 inch high. This size is still scannable by retailers and looks cleaner on the back of a book. The barcode should be placed on the lower right-hand side of the back cover, at least a half-inch from the bottom and spine.
I've heard that reviewers and some booksellers can tell if I'm a small publisher by my ISBN number. Is this true and will it affect sales?
ISBNs are coded with a number in what is called the "penultimate block." If you purchase a block of 10, that number appears as a single digit. A block of 100 is a double digit and blocks of 1,000 show triple digits. By looking at the ISBN, booksellers can see how many ISBN numbers you've purchased, and from there figure out how large your publishing house is. However, if your book is well-written, professionally edited and designed, and if it is an interesting subject to readers, it will sell no matter which block you purchased.
What do the numbers in an ISBN mean?
Country Code
Article Identifier
Penultimate Block
Check Digit Price Code
Tip:
Obtaining an ISBN for each of your published works is a detailed process. The information given does not represent all of the requirements necessary. Go to www.isbn.org and follow the steps to apply for your ISBN.
IAmPublished.com offers a wide range of publishing services and several affordable packages depending on your needs.
If you don't already have a business, it's time to consider what kind of image you want to portray. The name you choose for your business is a very important consideration. Hopefully, you will decide on a name that relates to your vision and is not hard for people to spell or remember.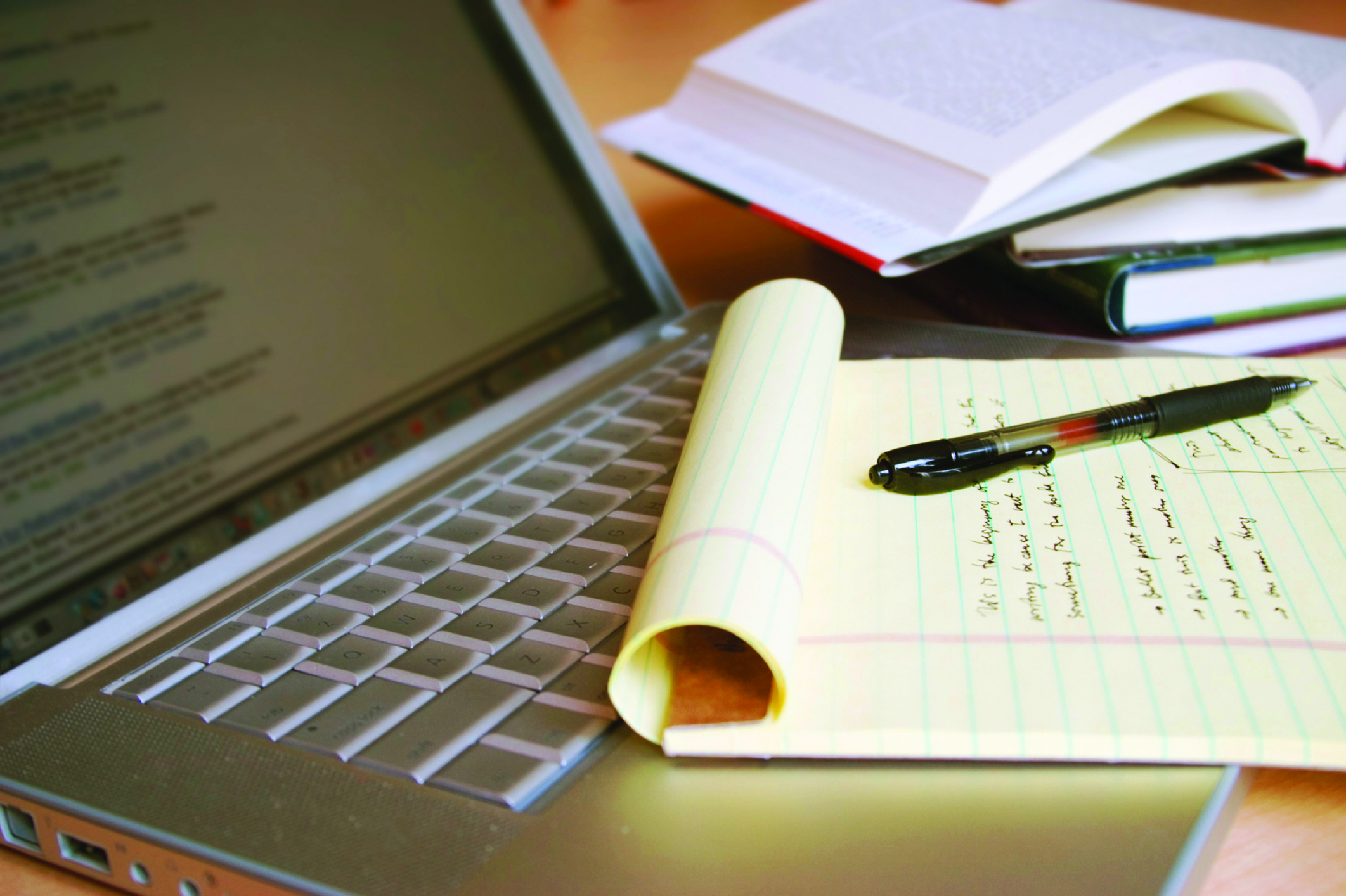 Take the time to do some research and make sure the name you want is not already in use. The first place you can consult is your local county clerk's office. Or, if you are setting up a corporation or limited liability company, you will need to check with the office of your Secretary of State, which approves business entity filings.
You may also want to do a trademark search. There may be no one in your state who is using the name you have chosen, but there may be someone in another state who is using it as a trademark. If there is any possibility that you might be doing business in other states at some point, you may not be allowed to use your trademark, if someone else had it first.
You can check with the Trademark Electronic Search System through the U.S. Patent and Trademark Office known as the TESS database, but even then, what you find may not be accurate as to who might be using the trademark you want.
The best decision would be to use the services of an attorney who specializes in intellectual property. Such an expert should be able to help you do a proper trademark search to determine whether the name you want to use is a safe choice.
Choosing Your Identity
Once you have a name, branding is the most important element necessary for your business. Many authors who do not already have a business will think about branding after their book is published. However, if you are publishing 100% independently, think about branding first. So what is branding? It is simply the choice you make to represent your image to the world. Your logo, colors, tag line—all these things contribute to your "brand." Think about a large company that has products such as food items, but also crosses over to t-shirts and apparel, toys, books and more. That company probably started out with something simple, like breakfast cereal. They created a logo, tag line, and even possibly a cartoon character to represent the cereal. Then as word spread and people began to buy the cereal, they came out with stuffed toys of their character. The stuffed toys were purchased not only because they were "cute," but mostly because people were already familiar with the character and recognized it.
Do the same thing with your business. Start with a logo or even a photograph. Or you can choose a specific object or animal to represent your company. One of our book coaching clients chose a butterfly to represent her company, since her first book was an allegory with a butterfly. It didn't seem to matter what type of butterfly, as when people saw butterflies they told her they thought of her company and book. Several of our clients have opted for a full logo. One of our clients had a logo created of a broken heart to represent her non-profit, and her first book had "broken heart" in the title, so her existing logo helped promote the new book.
An Example of Branding
At Imagine! StudiosTM, we selected a color palate of blue and green to represent our image. Starting with those colors, we came up with a logo that is entertaining and eye-catching. All of our marketing material and training programs use the same shades of blue and green and a similar clean design style. Our logo appears on everything from business cards and brochures to car magnets and books. Using the same logo over and over has helped us create a "brand"—something recognizable that when people see it, they think of Imagine! StudiosTM.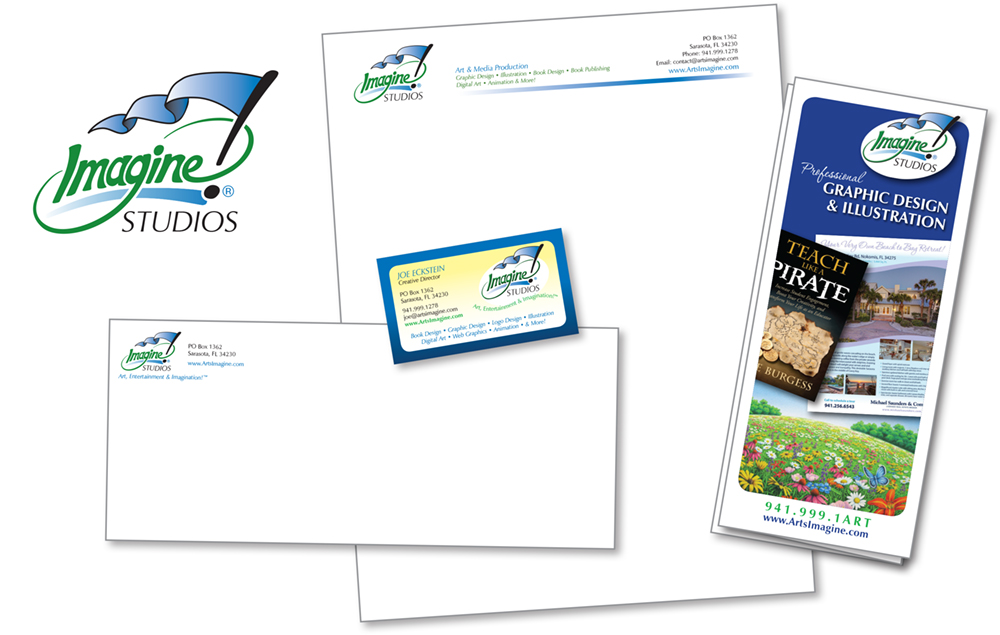 Your brand should be something you will be happy with for a long time. You will see it everywhere and it should represent who you are and what your company is all about. It should have colors that represent what you do and invoke the feelings you want people to have when they see your book or marketing material. It should be used on everything you can put it on, including business cards, letterhead, envelopes, postcards, email announcements, and your website—not just your book!
A Note About Color
Color can play a vital role in the feelings you want to invoke from your audience. Use the following color guide when choosing colors for your brand.
Red aggressive, energy, power, anger, hunger, heat, exciting, passionate, enthusiastic
Orange
change, creativity, energy, health, activity, stimulation
Yellow
wisdom, sunshine, joy, radiance, intellect, caution, call to action
Blue
water, sky, cool, peace, knowledge, loyalty, trust, contemplation, justice
Green
soothing, healing, rest, nature, money, harmony, growth, honesty, truth, testimony
Purple
luxury, wisdom, imagination, sophisticated, inspiring, wealth, romantic, whimsical
White purity, innocence, perfection, clean, virtuous, sacred, truth, simplicity
Gray
artistic, neutral, balance, security, reliability, modest, classic, intelligence, maturity
Black
night, power, sophisticated, elegant, formal, serious, dignified, solitary, mysterious, intrigue
Creating your business identity is a detailed process. If you find you'd like to have someone take care of these details for you, contact us at
IAmPublished.com
. We offer a wide range of publishing services and several affordable packages depending on your needs.
Having a business normally requires certain legal responsibilities, whether you are in the United States of America or elsewhere. Wherever you are located, you will need to seek legal council or your local government agencies for advice in setting up registrations for your business.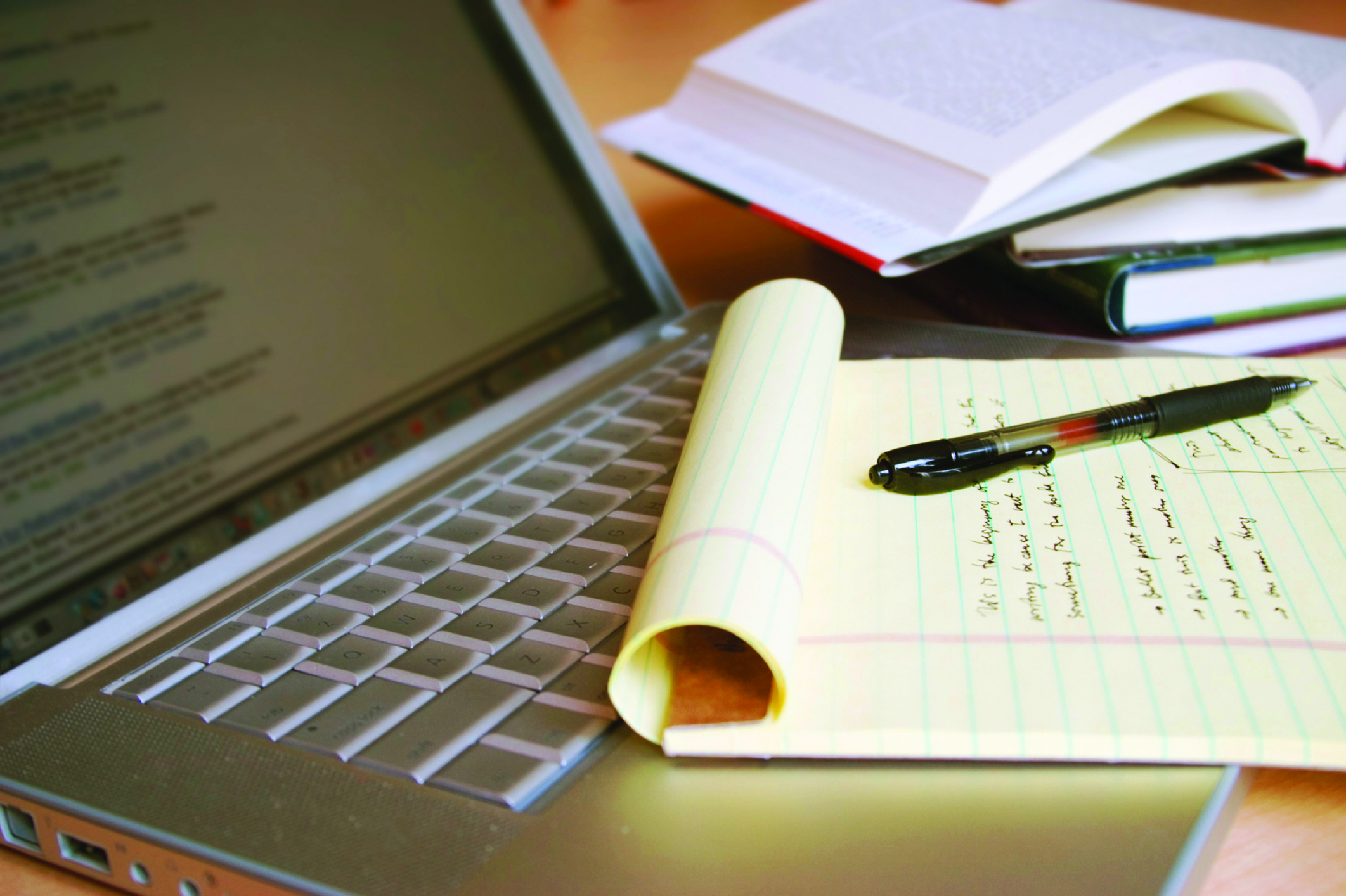 Corporations
In the US, you can create your business as a sole-proprietor, LLC, or corporation. We are not going to tell you which option to choose, but we recommend the book LLC or Corporation: How to Choose the Right Form for Your Business by Anthony Mancuso as a good resource to get you started. Our recommendation is that you make an appointment with your local Chamber of Commerce office, CPA, or attorney to determine which option is right for you. However, we can give you some resources to get started:
The Small Business Administration (SBA)
If you haven't checked them out yet, your local SBA office can give you free advice as to which types of licenses are required to do business in your area. Their website also provides a host of information to help you get started, maintain, and thrive as a business. To find the SBA office nearest you, visit www.sba.gov
SCORE
SCORE is an organization consisting of volunteer retired executives. Their advice and free business consulting is invaluable for small business owners. We offer mentors, how-to resources, templates, training and workshops to help your small business succeed. They can also walk you through marketing techniques and strategies, daily business activities, and more. Visit www.score.org for more information.
Sales Tax
In the US, most states have a local sales and use tax. Whether you choose a subsidy press, traditional publisher, or if you self-publish, you are required to obtain a sales and use tax certificate. You are responsible to collect sales tax for ANY direct sales of your books. Usually sales and use taxes are filed quarterly, and many states have an online filing option. Some states charge a small one-time filing fee, so call your state registrar's office to find out how to get your tax certificate. You should be able to find the proper contact information on your state's website or in the phone book.
Other Various Registrations and Activites
While you are getting your business set up, you may want to do one or more of the following:
Obtain a business license, if one is necessary. You may need to register a DBA (Doing Business As), Fictitious Name, or Assumed Name). Check with your state or local government for information on how to file.
Look into trademarking your business name and/or logo. This can be done at the State or Federal level.
Get a small business checking account.
Obtain a Post Office Box.
Find a CPA to consult for tax advice.
Find an attorney or purchase a Pre-Paid Legal membership for legal advice for your business.
Setting up a business for your published works is a detailed process. The information given here may not represent all of the requirements necessary in setting up your business.
IAmPublished.com offers a wide range of publishing services and several affordable packages depending on your needs.
Your book is your baby. You want it to look the best it can and convey your message in the most understandable and clear way. The best way to ensure this is to contract a professional editor to look over your manuscript. When interviewing editors, be sure and choose one who uses the standards outlined in a recommended style guide. The Chicago Manual of Style is the most widely accepted in the publishing industry.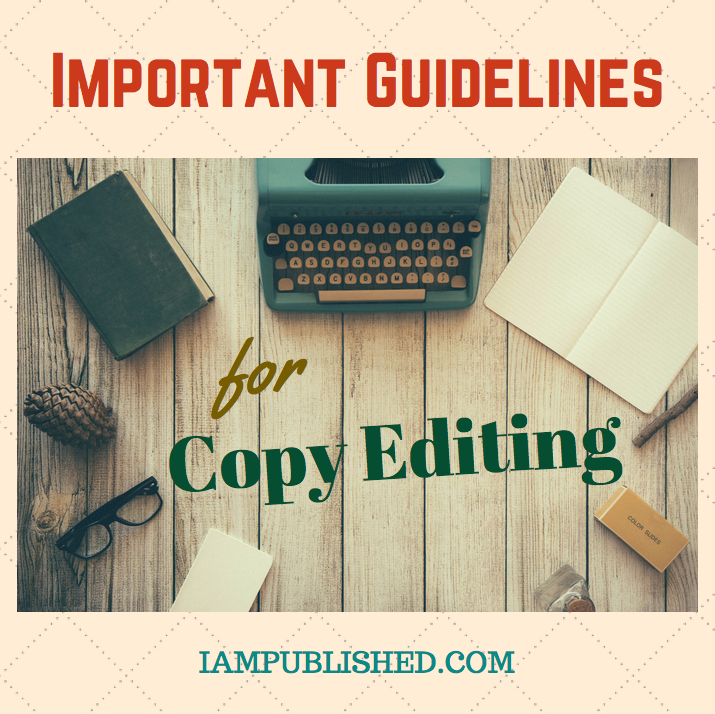 There are two different types of editing:
Developmental editing is where an editor takes your work, and then completely reworks it to be what they think is best. They may also work hand-in-hand with you to write the book. There are times you may want this type of service, but it can be costly when self-publishing. This is the type of editing most common with traditional publishers.
Copy editors take your work and go over it with a fine-toothed comb searching for spelling and grammar errors, correct use of punctuation, etc. They know what to look for to make your manuscript look consistent and professional.
You can save money on copy editing if you follow these self-editing techniques before handing your manuscript over to an editor.
Double-spacing after sentences—Correct computer spacing is now just one space after punctuation, not two. Typewriter spacing used to be double spaced due to the difficulty in reading the type.
Dashes—Use "em-dashes" (ie: —) to replace commas or for pauses in sentences. Do not mix commas with em-dashes in the same sentence. [Wrong: Kelly's heart was beating so fast, like a snare drum—that she felt it was going to burst. Right: Kelly's heart was beating so fast—like a snare drum—that she felt it was going to burst.] Keep it consistent. Use "en-dashes" (ie: –) to replace the word "to" such as between dates or a range of numbers (ie: 1882–1904). Only use short hyphen dashes (ie: -) as hyphens. Dashes can be inserted using Microsoft Word by going to "Insert" → "Symbol" and clicking on the "Special Character" tab. The first two choices are em and en dashes.

Underlines and ALL CAPS— Underlines and ALL CAPS alone or combined with bold type are taboo. Try to avoid underlining if at all possible. Instead, italicize the word or bold it (or both). If you must have an underline, make sure you have a good reason such as using underlines for key reference words if there are many other formatting types already being used in the same sentence or paragraph. This helps keep your book interior clean and easy to read. ALL CAPS indicates that the author is "screaming," so make sure you have a good reason to use them, such as a character shouting something.
General spelling—Be sure to read through your manuscript thoroughly for spelling errors, as the word processing program will not catch them all. The most common errors that your spell checker may not find include misuse of the words "then" and "than," "there" and "their," "it's" and "its," etc.
Find-and-Replace—Word processing programs make it easy to catch most of these errors. Hold down "Ctrl" and "F" at the same time for the "find" action. Click the "Replace" tab. For example, to replace all double spaces (there should be no double spaces in a manuscript) type two spaces in the "Find What" space, then type one space in the "Replace with" space. Click "Replace" and Microsoft Word will automatically find and replace all those errors. This works with words you or your typist may consistently misspell as well.
Permissions—If you want to use a quote, scripture verses, or other previously published material in your book, you must obtain permission from the owner or copyright holder of that material.  Certain material may be considered public domain, in which case, you do not need permission to use it. However in those instances, it's still best to cite the source. If you're not sure, search to see if it can be verified that it is public domain. If the quote you want to use is not public domain, contact the publisher and/or author of the work to be quoted for permission to use it. Publishers have different procedures for obtaining permission to use material that is copyrighted. Most won't charge for the use, but it's still important to go through the proper steps so you won't run into any legal issues later.
In conclusion, when preparing your manuscript for editing, clarity and consistency are key. If the manuscript's format isn't consistent, it will look amateur and unprofessional. Unfortunately, unedited (or poorly edited) books have contributed heavily to the "bad name" of self-publishing. The good news is, that trend is changing! Once again, when unsure of anything, check The Chicago Manual of Style, which outlines the current editorial style guidelines for professional-looking books.